Manufacturing for medicine – Accuride slides and the medical industry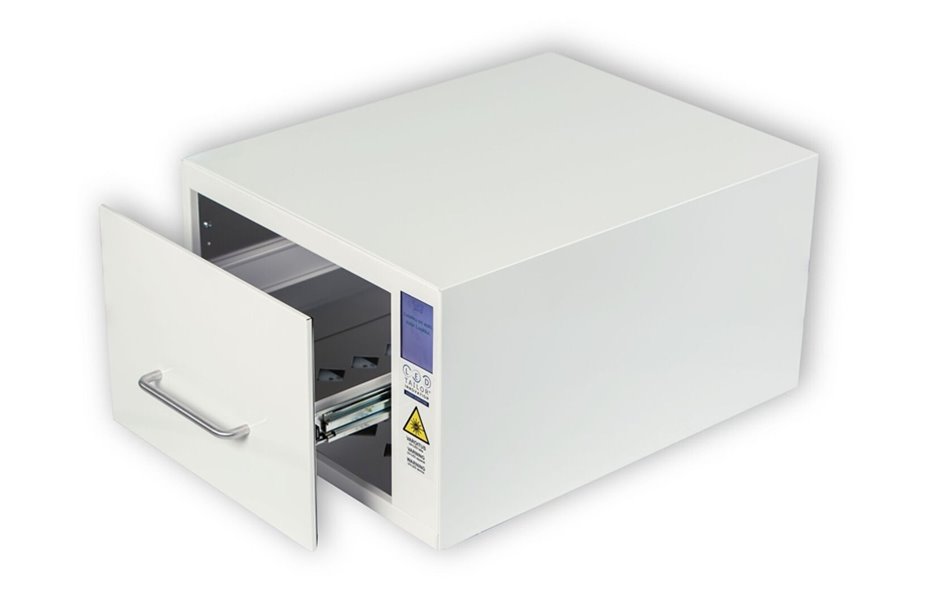 By
Helle Kinning
,
EMEA Marketing Manager
Published by :
Accuride International
As the rest of the world slows down in response to the current COVID-19 coronavirus pandemic, work within the medical sector, both on the frontlines and behind the scenes, is reaching lightspeed. More so than ever before, the need for efficient, safe and reliable medical equipment is critical, and manufacturing companies across the globe are stepping up to help in any way they can.
At Accuride, we are proud to have a continued relationship with several medical suppliers; from medical storage trolleys to hospital sliding doors, our telescopic drawer slides and runners have been utilised in many ground-breaking, essential products over the years.
One such product is a portable work station by Austrian manufacturer Viwa, featuring a set of medical storage drawers. Our DZ3832-TR touch release drawer slides were used in this application, making it easy and sanitary to open and close without needing a handle. These slides also have a hold-in feature, ensuring that the drawers will remain safely closed when not in use.
A similar application that has benefited from the innovative design of Accuride slides is the Stavromed bedside cabinet. Our DZ2002 two-way travel drawer slides were used in this cabinet to make it accessible for both patients and medical staff no matter where it was placed in the recovery room.
Two-way travel slides are not only ideal for use at a patient's bedside but also for the crucial medical research happening behind the scenes. This is why Accuride was chosen to supply slides for Baker Ruskinn's new anaerobic workstations, including our DZ2026 two-way travel slide that allowed for samples to be seamlessly moved between an interlock chamber and the workstation. The DZ3301 and DZ2601 were also utilised in this application, offering a full range of motion despite the small space.
The smooth movement of Accuride's slides is often what sets them apart from the competition, especially when efficiency is key. This is one of the reasons why we were approached to produce slides for the heavy sliding door hardware used at the Alder Hey in the Park Children's Hospital. Our engineering team were able to create an aluminium track that moved using recirculating ball carriages, making the doors easy to open despite their heavy weight, even for the young patients.
This smooth movement and reliability is all the more important for the high-tech and innovative solutions being created for the medical automation market. When manufacturing their surface disinfection box, in which personal items and medical equipment can be disinfected used blue LEDs, Finnish company Led Tailor Innova7ion utilised our DZ7400-50SC and DZ2002 linear motion slides. The 100% extension allowed for easy access to the box's contents, while the 45kg load-rating made it suitable for use on multiple items at once.
Similarly, NewIcon made use of our DZ3832-EC-B and DZ5321-EC drawer slides in their bespoke smart medicine cabinets, in which automated systems are used to increase security and inventory efficiency. Our slides enabled large amounts of supplies to be stored in one space, thanks to their high load-rating and suitability for use on wide drawers, as well as making sure they are easy to access in time-sensitive situations.
More recently, our telescopic slides were used in Mediso's AnyScan medical imaging system, an innovative, space- and time-saving application that offers a combination of SPECT, CT and PET scanning in one. Our DZ3607-2slide was used to ensure the detector covers at the back of the machine could easily be removed to allow for repair and maintenance work, thanks to 100% extension and a front disconnect, helping to increase efficiency and minimise any downtime.
If you are a manufacturer or supplier within the medical industry and are looking for durable and heavy-duty slides for crucial medical equipment, get in touch today to discuss our wide range of off-the-shelf solutions, as well as our bespoke capabilities.