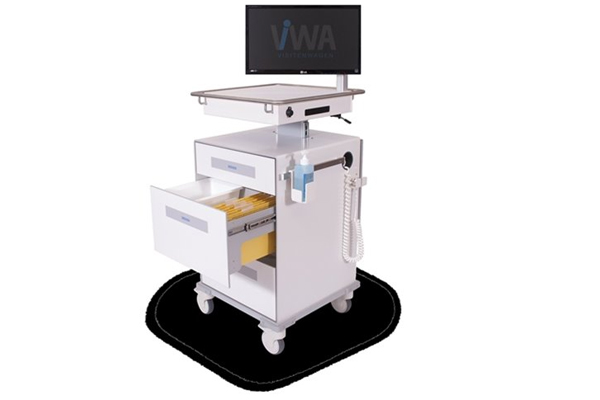 In April 2018, the British Journal of General Practice researched the effect of alternatives to face-face consultations between patients and their doctors, such as telephone consultations and emailing. The results showed that patients could only express a preference for alternative forms of consultations when they were aware of them, yet receptionists only offered them when all other appointments were taken and there was no other option. This is because many staff hold the belief that 'patients prefer to see the doctor', which was somewhat supported by one of the patients in the study remarking that a phone consultation was 'better than nothing, but not 100 percent'.
In order to make the lives of doctors easier, Austrian manufacturers Viwa GmbH have created a range of portable workstations. Models such as the Viwa i50 allow doctors and nurses to take files and laptops or integrated desktops with them as they complete their ward rounds, giving them access to any paper documents they may require, as well as using telehealth systems to improve efficiency and patient information safety.
Working with HA-CO, a trading and production company of technical solutions in Austria and one of Accuride's trusted distributors, Viwa decided to use Accuride's DZ3832-TR push to open drawer slide. The slide was used for the storage drawer on the side of the product. The many features that the 3832TR benefits from make it the ideal product to be installed in an application like the Viwa i50, which is focused on efficiency, productivity and ingenuity.
The hold-in feature of the 3832TR guarantees that the drawer will remain closed as the cart is moved from patient to patient or room to room, ensuring the safety of the operator as well as anyone else that passes it. The slide also has a touch release feature, to both open and close it, which enhances the operation of the cart. A purposeful touch is all that is required to operate this drawer.
Assembly is made easy with the front-disconnect feature and with 100% extension, the operator of the cart will be able to open the drawer fully to access any suspension files they may require without causing any damage to the files.
The Viwa i50, and other models produced by Viwa, allows doctors and nurses to continue to supply the face-to-face contact that patients prefer, while incorporating the proficiency of telehealth and digital systems.
Accuride are proud to work alongside professionals of any and all disciplines within the medical field in order to help them to be as productive as possible. If you are interested in how Accuride can assist you on your next project, contact us today to talk to one of our experts.