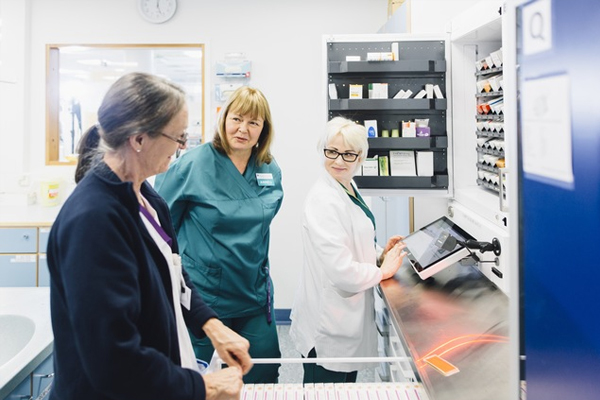 With 10 years of experience as medical service pioneers, NewIcon Oy is Finland's market leader in automation storage for pharmaceuticals. They have delivered automation solutions for medical services to over 100 pharmacies and hospitals across Finland, Denmark, Russia, Israel, Iran, China and have distributors in more than ten countries.
During the development of their eMED ICON Smart Medicine Cabinet, NewIcon cooperated closely with their trusted supplier Carlo Casagrande in order to find the right telescopic slides for their drawer systems. It was important to find a slide that was not only suitable for wide drawers but could also carry a potentially heavy weight – not an easy combination.
The eMED ICON is a modular device for the storage of medication in pharmacies and hospital dispensaries. Different modules are manufactured to create each device, making them completely bespoke for the customer. Drawers are a major part of each module design, so it was important for NewIcon to find the right drawer slide for their eMED ICON smart cabinet.
A number of Accuride runners were tested and in the end NewIcon decided to go with Accuride's DZ3832-EC-B and DZ5321-EC models. Based on user experiences, these two models met the desired requirements of the device and the customer. The 5321EC soft-close slide is ideal for wide drawers and the opening pull-force mechanism means that the drawers won't open by themselves unless a slight pulling force is applied. The soft-closing feature also means that the drawers will close quietly, thus be aesthetically pleasing. The 5321EC comes with optional brackets that make the slide easy to install and save expensive labour time.
The slides have to operate reliably due to the device's function as a medical aid in pharmacies, patient rooms and operating theatres. An operation cannot be interrupted or postponed due to a poor quality drawer system, meaning the durability of Accuride's slide make it the perfect solution.
The software in the eMED ICON allows nurses to keep track of medical inventory to avoid over-ordering or running out of stock. The eMED ICON also ensures the correct medication is selected for each patient, thus increasing the patient safety to a higher standard and avoiding human errors.
Security is increased by the self-locking system on the drawers, saving valuable time for the medics to allow them to get back to treating and looking after patients as soon as possible. The system makes the drawers accessible only via appropriate staff ID cards to prohibit the abuse of medical substances like narcotics, and therefore improving safety and misuse.
If you are in the medical industry and would like to know how Accuride's slides could be a perfect solution for your device, please chat, e-mail or call us to discuss your requirements further.