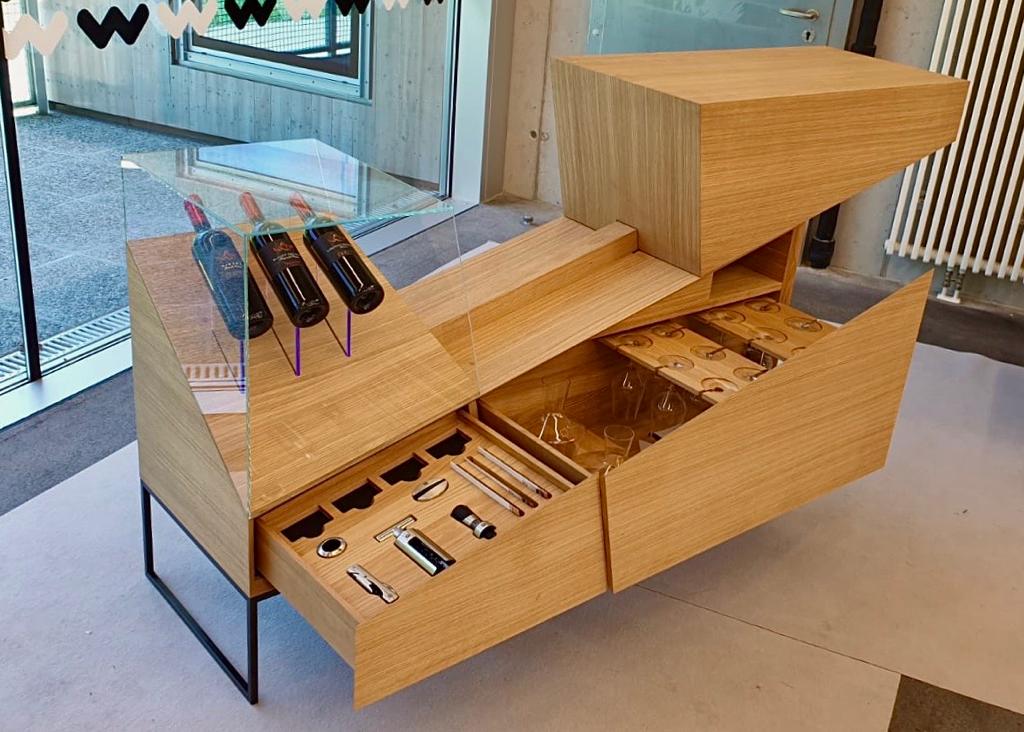 Wine is one of the largest exports within and out of Europe, with almost 50% of world wine production happening in France, Spain and Italy alone. Whether you are hosting a dinner party for friends at home or going out for a romantic dinner at a hotel or restaurant, the wine is arguably just as important as the food – and when you're serving fine wine, from smooth reds to crisp whites, it is deserving of the finest storage and display.
Austrian carpentry student Dominik Huber recently designed and manufactured an innovative and sophisticated sliding wine bar, combining sleek and modern design with the functionality needed for effective wine storage to earn him a distinction and nominations for several prestigious events and exhibitions.
This wine display bar features a variety of sliding drawers for the storage of glasses, carafes, bottle openers and corks, as well as a glass display cabinet large enough to display up to three bottles of wine, providing everything needed to serve guests or customers. When designing the bar, Huber needed a reliable and discreet drawer slide that provided smooth movement while enhancing its minimalist design.
The young carpenter chose Accuride's state-of-the-art DA0116-RC linear motion guide to achieve the bar's dynamic movement capabilities. This heavy-duty slide could easily withstand the weight of the bar's contents, supporting loads up to 360kg. Available in 2.4m and 3.6m lengths, the durable aluminium track is designed to be cut to the customer's desired size, meaning it would fit exactly to the requirements of this application.
Two DS0116-CASSRC recirculating ball carriages were used in the slide, providing continuous and smooth linear motion as the drawers are extended. This was combined with our DP0116-ECRC damper mechanism, designed to cushion the last 40mm of movement, ideal for quiet and sophisticated settings.
At Accuride, our wide range of linear motion slides and accessories have been used in a variety of storage solutions, doors and panels for customers throughout Europe, including sliding wine storage cabinets for an Austrian hotel. Thanks to our innovative in-house engineers and state-of-the-art design capabilities, we offer stock and custom products suitable for all manner of applications for the hospitality, architecture, and retail industries.
If you are looking for light-, medium-, or heavy-duty linear motion or telescopic slides for your business, take a look at our full product range and get in touch today to speak to our experts.