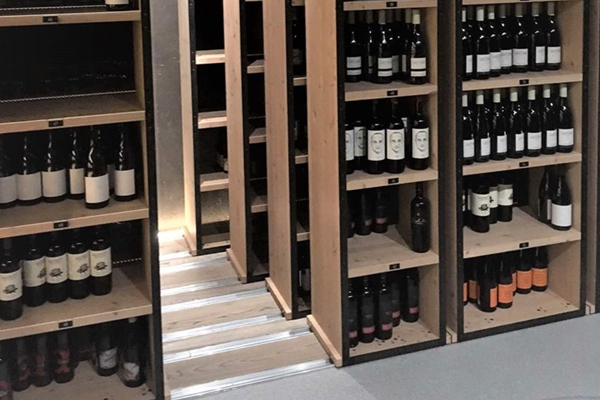 The storage of wine is an incredibly important element of keeping wine long-term. While it is known for being one of the few commodities that can improve with age, it can also rapidly deteriorate if stored incorrectly or inadequately. Light, temperature and humidity are all factors that must be controlled, which is why many restaurants and hotels have specific rooms solely for storing wine that meet all of these conditions.
Wine storage, whether it's a personal collection or in a hotel or restaurant, has been catching up with modern interior design and architecture, and the POST hotel in Austria is no exception.
The family hotel in Serfaus has rebuilt its wine cellar with a modern and innovative twist. Rather than rows of shelves several feet apart taking up precious space, the hotel has chosen an inventive, alternative system that optimises the room and allows more wine to be stored in the same area. The wine is stored in shelving units, perhaps a couple of millimetres at the most, with tracks embedded into the floor and guiding rails on the ceiling that allow the shelves to be moved easily in order to find the desired vintage.
With a few thousand bottles of premium wine to store, the system had to be robust yet easily movable. The shelves glide quite easily despite the weight of their cargo thanks to Accuride's DA0116-RC heavy duty linear motion slides that are mounted onto the bottom of the cabinets. The sliding door mechanism has been cleverly utilized to allow access to every single cassette, with dampeners also installed to ensure no accidents befall the precious cargo.
Accuride was introduced into the project by Häfele, one of our trustworthy distributors in Austria. With a history dating back to 1923, Häfele are a well-respected company with an extensive and undisputable knowledge of the hardware industry. Operating internationally in fitting technologies and electronic locking systems, there are few companies that know these components and systems so well. Contacted by Tischlerei Erhart, the furniture makers contracted to create the solution for POST hotel, Häfele recommended our heavy-duty motion slides as they are perfect for providing smooth motion even with a heavy load.
This was proven when this particular model was included in the rebuild of the Alder Hey in the Park Children's Hospital in Liverpool, used in the design of large glass doors that could be operated with as little as 20N of force, meaning even the younger children on the ward could independently operate them. These doors went on to win the Laing O'Rourke's Northern Innovation Award, further establishing the quality of work contributed by Axis and Accuride.
If you have a similar requirement or are interested in how Accuride can help you with your requirements, contact us today or talk to us via our live chat on our website.