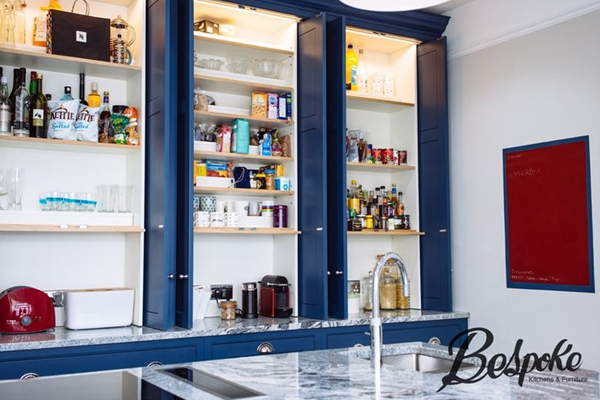 People taking great pride in their homes is nothing new, but in the age of Pinterest, Instagram, and countless interior design television shows, it's becoming easier than ever to find décor inspiration for your exact needs and preferred style. It's therefore no surprise that the kitchen manufacturing industry is set to see a significant rise in sales and is only expecting to grow even further.
While many people are happy with an off-the-shelf kitchen from chain retailers, others are looking for one-of-a-kind designs made specifically for their requirements. Bespoke UK has been designing and building made-to-measure kitchens and individual furniture items for many years, providing a high-quality product and service to customers throughout the UK from their workshop in South Wales.
Bespoke UK has the experience needed to create beautiful bespoke kitchens of any shape and size, with many of their customers requesting innovative space-saving solutions to maximise efficiency while still looking as stunning as possible. By including kitchen cabinets with pocket doors in a number of their designs, they can provide great-looking storage without requiring enough space for a standard door to swing open.
With the typical cost of a bespoke kitchen in the UK being anything from £18,000 to over £50,000, it was imperative for Bespoke to use the best quality products to create these pocket doors and this is where Accuride have been able to help.
With the help of Hafele UK, a manufacturer and distributor of hardware such as door handles, drawers, and sliding/folding doors, Bespoke chose to use a number of slides and accessories from our range of pocket door systems, including the DB1432, DB1234, DZ1316 and DZ1319.
The 1234 slide is a light-duty system that can be mounted both horizontally and vertically, with a maximum load rating of 14kg and easy to install design. The 1319 slide has a maximum load rating of 5.5kg, with the 1316 sequencing accessory increasing this load rating to 25kg. For tall doors, the 1432 can be used on doors heights up to 2300mm, supporting weights of up to 34kg.
These slides offer smooth, silent movement for pocket doors that integrate seamlessly into their surroundings when both open and closed. This versatile design provides a secure place to store food, crockery, or even coffee makers when the doors are closed, saving valuable counter space and keeping items free from dust and dirt. When the doors are then opened, items are easily accessible and the shelves can even become a display feature.
Whether you're looking for a pocket door slide or one of our many drawer slides, get in touch today by giving us a call or using our live chat feature to discuss how Accuride can help you with your next project.