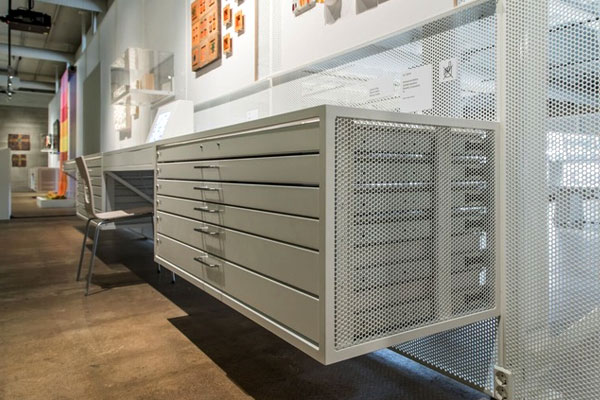 Finnish company Metallivalmiste A. Laaksonen Oy is a family business founded in 1968. For more than 30 years they have been making their own high quality ARKISTO 2000 mobile archive systems, shelving, cabinets, drawers, map boxes, sideboards and museum furniture. As a result of years of development, their products offer extremely well-functioning solutions that bring their customers back to them time and time again. They also provide design and installation services to the customer and implement customized solutions to meet customer needs on a turnkey basis.
In partnership with local hardware supplier, Carlo Casagrande Oy, they have been using Accuride's sliding systems in their products for over 20 years. The range of DZ3301-60, DZ3832, DZ5321-SC/EC telescopic drawer slides and DP0115-ECRC-2 linear guides they use is large and continues to grow - Accuride's continual development of new and improved products gives manufacturers opportunities to design and bring to market exciting and functional solutions.
Petteri Laaksonen, Metallivalmiste's Managing Director, comments:
"Accuride has been a reliable supplier to our company for many years. The product range is really wide and delivery times are fast. The feedback from our customers has been excellent in relation to the operation of the rails. We have increased the use of soft-close in many products and have offered it as an alternative in almost all projects, especially in museums where customers consider this feature to be essential."
Click on the links to view this extensive range of pull-out shelving, museum furnishings and drawer systems. Examples of museums that the products are used in are the Estonian National Museum and the Espoo Museum of Modern Art in Finland.