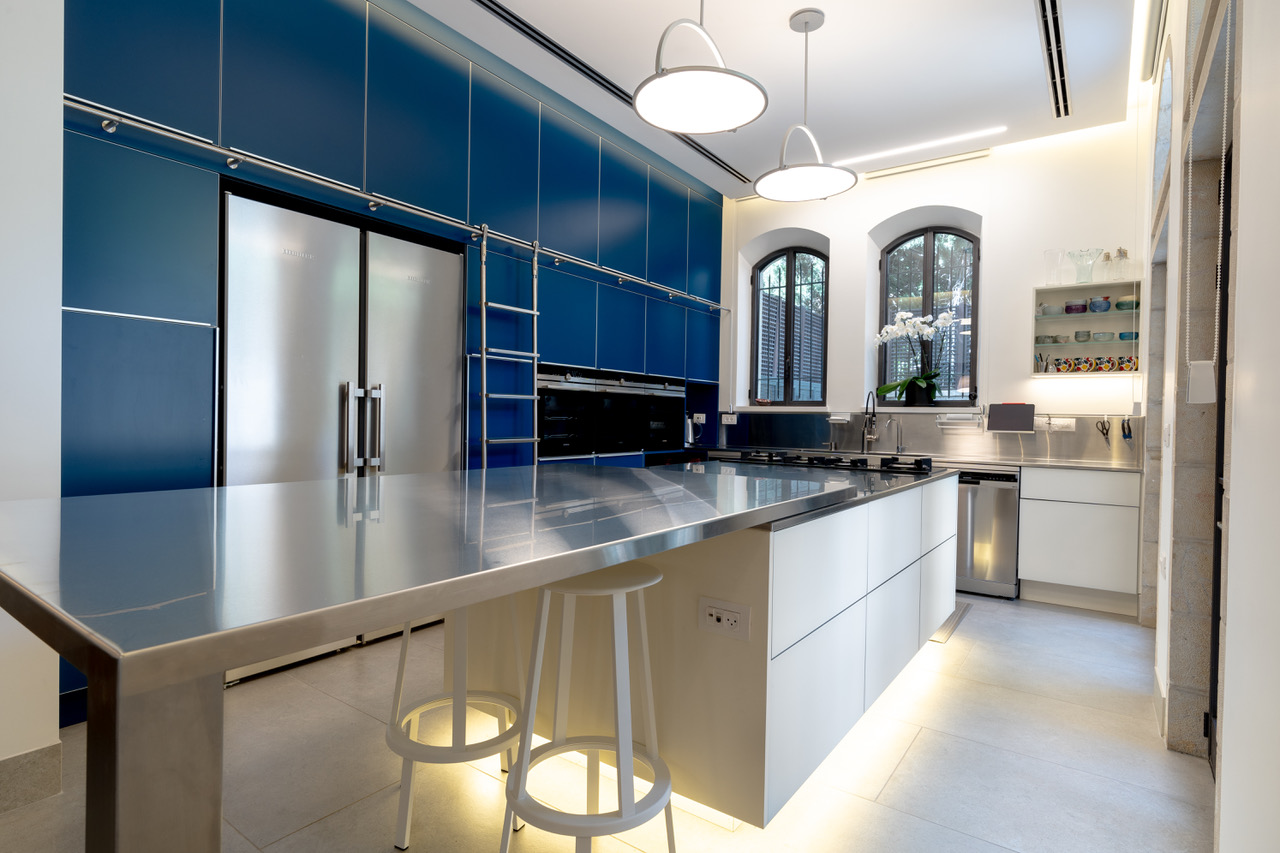 With everyone spending much more time at home this last year, home improvements have shot up as one of the top household expenses – and for many this will focus around the kitchen.
The kitchen has become a multi-functional space within the home, not only used for food preparation but also as a home office or entertainment hub, so it is important to make the most of the space you have.
Including a sliding worktop within a room is a handy way to make more space for activities and to be able to hide appliances when not in use.
For one Israeli customer, this was exactly what she had in mind when designing this stylish kitchen.
A high-quality product for a high-quality kitchen
When deciding how much money to spend on kitchen improvements, it is recommended that you spend more on the areas of the kitchen you will come into contact with the most. The kitchen worktop is top of this list, as a cheap kitchen worktop can stand out and feel cheap to the touch.
To ensure that the sliding kitchen worktop not only looked great but also functioned to a high standard, we recommended that the customer use our 0116RC linear motion track because of its smooth movement and ability to support weights of up to 360kg.
The worktop needed to be easily moveable, for daily use, which is a huge advantage of our 0116 linear motion track. This ease of movement has made the Accuride 0116RC heavy-duty linear motion guide suitable for a range of applications from sliding wine storage to award-winning hospital sliding doors.
The aluminium track comes in lengths of 2.4m and 3.6m, and the corrosion resistant nature of the linear guide makes it durable enough for both industrial environments as well as domestic uses like this stylish kitchen.
How to install a sliding worktop?
The customer was especially pleased with the high level of support she received from our Customer Experience team and Engineering department, as it allowed her designs to go from the drawing below to a finished reality.
To ensure the weight of the heavy countertop was sufficiently supported, our engineers recommended using our DA0116RC track with two cassettes per a track, with the cassettes then placed as wide apart as possible for maximum stability.
It was not only important that the worktop functioned to a high standard, but that the finished result looked the part. Therefore, we recommended that they mount the track underneath the worktop, so that the linear motion track is hidden in the finished design.
However, if your application requires it, it is possible to side or flat mount the track as shown in the below animation.
When asked the question 'How do you extend a kitchen countertop?' we are always keen to share this animation to demonstrate how the customer can extend their counter top or conceal their kitchen worktop with a sliding counter. Our team are always happy to help, contact us directly if you would like any support with your designs or installation process.
A slide out work surface is just the start
The top trends for kitchens this year include concealed appliances, mesh cabinetry and bold contrasting colours. These trends are predicted to be everywhere in the coming year, however for this customer it was important that she not only had a kitchen which was bang on trend but which also stood out amongst the rest.
As well as sliding kitchen worktop, the customer has also installed floor to ceiling kitchen cupboards with a ladder for easy access to the top cupboard, resulting in a truly modern and individualistic kitchen design.
Are you an architect or kitchen fitter who would like to transform a space? We offer a wide range of telescopic slides and linear movement systems which can save space and really transform the layout of a room. Contact us today and we will be happy to work with you to pick the right off-the-shelf product or provide a bespoke solution.