Accuride Innovates Telescopic Slides Suitable For Microwaves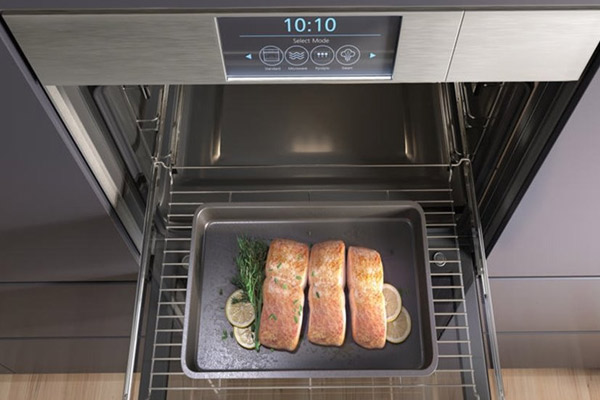 By
Sabine Rohmann
,
Key Account Manager White Goods
Published by :
Accuride International
This time last year, we launched a pyrolytic oven-compatible slide to provide our customers with the most suitable product as they kept up to date on the latest cooking technology. Our version removed the risk of harmful toxins being released from the lubrication greases in the slide during the cleaning process by using solid graphite inserts. These inserts moved as smoothly as expected from an Accuride product, but, most importantly, could also withstand the heat.
This year, we've once again brought Accuride's high precision and quality components to another trend in contemporary cooking.
Does anyone else remember being told by their parents that you can't put metal in the microwave? Well, our brand-new telescopic slide breaks those rules: as if being compatible with combination, steam and pyrolytic ovens wasn't enough, the patented slide can also be safely used for built-in microwave cooking functions on combination microwave ovens.
Designing a metal slide for a microwave was a challenge that required innovation and creativity, and was one that our engineers did not want to miss out on. The slide's inventors, Andreas Heffel and Philipp Krebs, remarked that "the development of considerable heat and sparking are now a thing of the past" thanks to Accuride's mastery of the key challenges involved in developing a microwave oven-suitable slide.
"We are the first company to offer its customers and partners a single solution for all four combi oven functions," says Laurent Trémolières, COO of Accuride Europe. In doing so, we have responded to the increased demands placed on today's household appliances, as well as the challenges of smaller living spaces and changes in cooking trends.
With space in cities and urban areas becoming more valuable, some may find that kitchens and cooking spaces are shrinking, particularly in apartment blocks. Some of the best microwave combination (or combi) ovens can perform the capabilities of an oven, a grill and a microwave all in one unit, removing the need for all three appliances to be installed and saving valuable space.
The ability to carry out everything from convection cooking and baking to grilling and crisping also makes combi ovens the ideal appliance for creating meals without having to spend hours setting up various appliances for different aspects of cooking. For example, let's say you decide to have that cottage pie ready meal that's in your freezer. Combi ovens that have multi-step programming will be able to defrost, cook and even crisp up the top layer for you, and you won't have to come back between each one.
As microwave combi ovens are also likely to have a smaller volume capacity, the heat will be more focused than in a conventional oven and will therefore cook through food faster. This falls perfectly in line with the range of 15- to 30-minute meal cookbooks that are now quite popular on the shelves of many bookstores and superstores, combining the full meals that we all know and love with efficiency and shorter cooking times.
Would you consider replacing your separate cooking appliances with just the one? If you are interested in learning more about how our slides can be incorporated into your design projects, please contact us today.