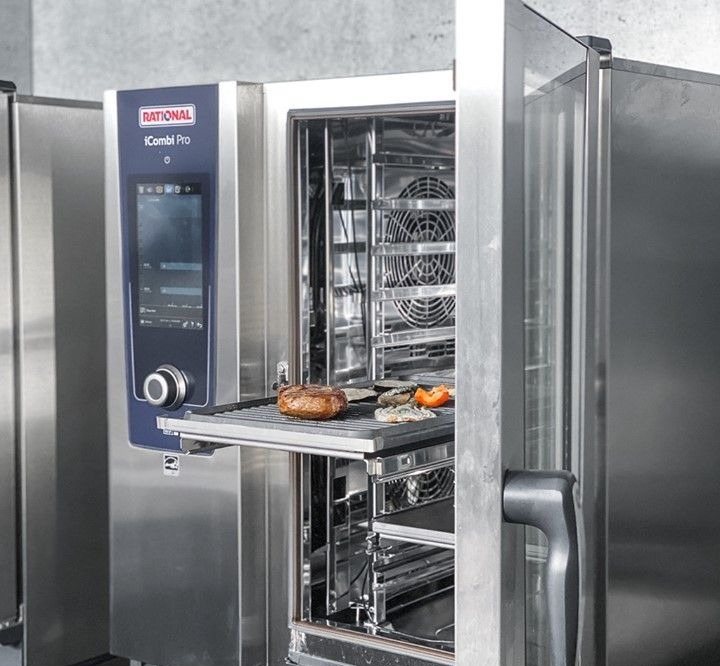 Telescopic oven rails may seem like a small part of a commercial kitchen, but choosing the right kind can greatly improve the ergonomics and overall safety of the kitchen environment.
Imagine you are stood in the middle of a hectic commercial kitchen, now how many potential hazards can you spot? From spilt liquids on the floor to hot trays left on work surfaces, these are just a few of the many hazards chefs have to avoid whilst working in a busy kitchen.
A kitchen can be a hectic and demanding environment, so being able to safely and quickly load and unload the oven is a necessity.
German oven manufacturer RATIONAL had this in mind when they first came to Accuride, and we were happy to provide them with a telescopic oven slide which made loading and unloading their combi-steamers a much smoother process.
With 45 years of experience, RATIONAL specialize in producing combi steam ovens and cooking equipment which help to make life easier for those working in the kitchen.
Therefore, when it came to tackling this particular kitchen hazard, it was important to produce a bespoke oven slide that was not only easy to install and use but also durable enough to withstand constant use within a commercial environment.
They chose to use our 304-grade stainless steel oven slide in their iCombi oven range because of the slide's smooth movement and durable design, as well as how easy it made the removal of the oven tray.
The result was a no-fuss oven slide made of food-grade stainless steel, with the ability to support weights of up to 10kg, which is more than strong enough to support the oven tray and range of hot food within a large commercial oven.
Watch their video to see just how easy the slide is to install and use inside their iCombi ovens:
The easy installation and removal of the slides also makes it easy for the chefs to quickly change the rack level inside the oven, as shown in the video.
The extendable rail provides especially good value for smaller commercial kitchens where space is limited, especially those specializing in á la carte service. The ability to quickly extend the tray in and out for easy access removes the need to take it out and use up much needed counter space.
Turning up the heat in the pyrolytic oven market
At Accuride, we are proud to be one of the first companies to introduce a single solution for all four combi oven functions.
Our oven slide, which is suitable for steam, pyrolytic or conventional ovens, has been a popular addition for companies like Bosch, Miele and Electrolux, and we are now proud to be able to add RATIONAL to that list of trusted customers.
To ensure the product meets food safety standards, the slide does not use grease but instead runs smoothly using patented solid graphite inserts. This means that the slide can withstand high temperatures without releasing the toxic fumes that can be produced by the grease in slides from some other manufacturers.
There is also the option to use the greaseless slide in conjunction with our new food-grade stainless steel bracket, which allows for both bottom and platform mounting options.
Backed by over 27 years' experience within the white goods sector as well as strong engineering capabilities, our team is fully equipped to support you on your next big project. Read more about our custom design capabilities or contact us today to speak directly to a member of our team.