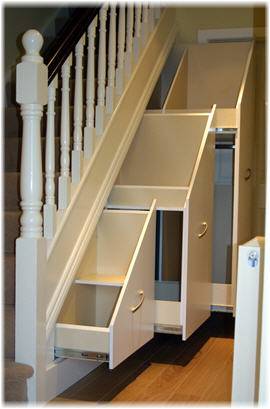 Paul Regan of Touchwood Designs in Ireland came up with this clever idea when clients had their attic converted, were left with a large stair case in what had been their bedroom, and Paul suggested filling the space beneath the stairs with pull-out storage.
Since then Paul has been developing and improving the concept and trying out different telescopic drawer runners to find the best solution.
Paul explains, 'Some improvements would be visual, such as door finish and handles, others would be improved storage capabilities, etc. However the most important development I have made has been the sourcing of Accuride full extension slides.'
'Initially just finding the right type of telescopic slides in Ireland was a problem, especially finding any stocked slide over 600mm. Also the weight considerations meant that it was difficult to find a suitable runner. Most of the heavy duty runners were under-mount - and I needed a guide rail on the top to balance the unit. The guide rail was always difficult to fit because of the slope of the staircase and, with every staircase being different, things got very complicated.'
Drawer runners with self-close
Luckily Paul found the Accuride DZ5321SC slide, which solved fitting and load problems, and prevented the units from creeping out – the self close mechanism holding the units closed. 'When used in conjunction with the heavy duty DZ9301-U-E runner I can use them on the very big units and still get the 'Self Close' feature,' says Paul.
Push to open drawer runners
The Accuride DZ3832HDTR (push to open drawer runner) is used on most of the smaller units, which eliminates the need for handles. The DZ3832-HDTR 45Kg runners will be used across the board, as well as the newly launched DZ5321EC, 100kg soft close slide and also the DZ9301-U-E, 227kg slide for the heavier units.
'I really am delighted to have discovered this excellent range of products, which I know will greatly improve the quality and performance of my storage system and completely eliminate the difficulties I have had in the past with installations. I can now finally work with confidence, knowing that the runners will do exactly what I need them to do and have all traces of uncertainty removed. I can even save on time as I won't be called back to previously installed projects to repair or replace inferior runners. I have had to do this on a number of occasions, and it is not only a waste of time, but also a poor reflection on my business.'