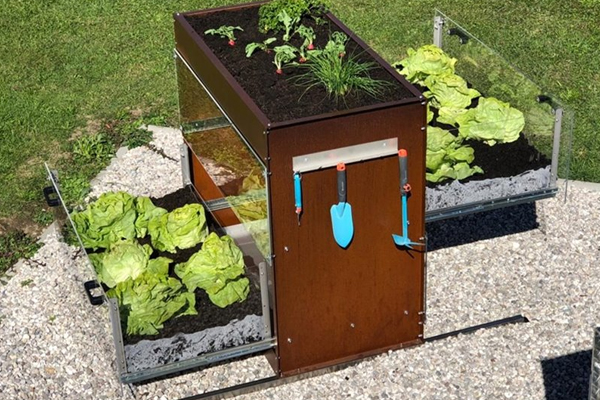 In recent years, the popularity of growing produce at home has become more popular, with the public even being encouraged to get green-fingered by brands like smoothie giants innocent. With the current concern for our global environment, there has been a renewed focus on the methods used to grow, harvest and transport the produce we buy in our shops. With the increase of small living spaces, however, having the option to start our own allotment or vegetable garden at home may not always be possible.
Austrian company Hödl Schubladen Hochbeet has decided to tackle this issue head on by creating a compact, mobile allotment system that allows for plants to be grown indoors or in limited spaces, like balconies. After winning a prize in Upper Austria for the development of this innovative way to garden, owner and developer Andreas Hödl has taken his design into production in order to provide everyone with an accessible space to garden.
Often our connection to unusual and interesting cases, HA-Co Austria were the distributors who introduced Hödl to Accuride's world-leading engineering. Proving just how versatile our slides can be, HA-Co used their expert knowledge of the industry to recommend the DZ5321-60, a heavy-duty drawer slide with fitted brackets for easy installation.
With a sturdy load rating of 120kg, these slides will be able to hold the soil and gravel required to create a healthy environment for your growing vegetables. Hödl's mobile allotment systems will help growers to save water thanks to the draining holes in the base of each drawer, and will also help them to save money. The savings will not only pour in from saving water, but from the reduction of food miles and the carbon footprint it takes to get the produce from plant to plate.
The drawers allow for young or vulnerable plants to be stored away safely during storms or harsh weather in order to protect them from damage, and to keep out pests such as mice, slugs and birds. With no pests to ruin your harvestable crops, there's no need for harmful pesticides or chemicals, meaning your produce will be even fresher than those bought in the supermarket. The hold-in feature on the drawers means they will remain closed should the whole cabinet need to be moved or relocated, but they will not take a large pulling force to open them again.
So, no matter whether you're in an apartment, lacking space in your garden or don't have a garden at all, you too can join the green-fingered revolution with Hödl's raised drawer bed. You can read more case studies on our products here, or if you would like to discuss your requirements on any projects in any industry, you can contact us here.