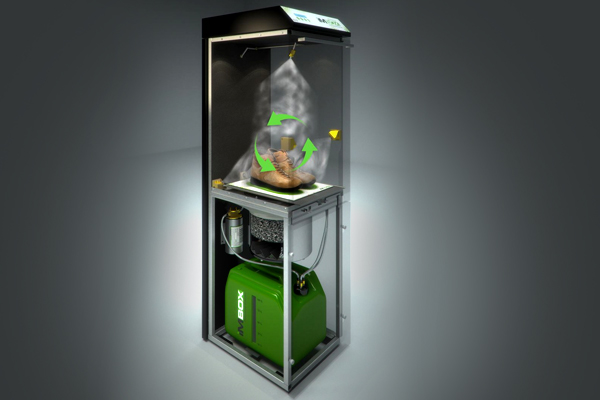 Have you ever bought a new pair of shoes, only for them to be ruined by rain, mud, or spilled food a few weeks later? Well, Danish company IMBOX have created a solution for almost all shoes: a chamber that sprays your shoes with a weatherproof coating, protecting them from the elements, UV, and foods.
Developed in 2011 by Danish company IMBOX Shoecare A/S, which is part of the Grundtvig Group, the IMBOX system is a world-patented shoe protection service. Taking place in an enclosed box, a pair of shoes is sprayed with the mixture of liquids that form the IMBOX solution. The liquids have all been tested by PFI Pirmasens in Germany, the preferred testing institute for footwear, and they, along with the machine, have all been approved according to Danish standards – the most comprehensive standards in the world.
The formula is not harmful to humans and contains no carcinogens or other forms of nanotechnology. IMBOX has aimed to make the process as environmentally-friendly as possible and the enclosed space ensures none of the chemicals are released into the air. Any particles remaining after the process are absorbed by the active coal filter installed underneath the spraying chamber.
Watch the video:
The tray on which the shoes sit is supported by the DZ3832-SC slide from Accuride, a self-closing slide with a hold-in feature to ensure the tray is shut securely during the process. The slide also benefits from the cam drawer adjust option, which allows the drawer height to be adjusted easily to make sure it is perfectly aligned after installation. The 100% extension abilities of this slide also make it easier for IMBOX operators to place the shoes inside and ensure that they fit the machine.
Accuride was introduced to IMBOX by an engineering and trading company Hans Buch, one of Denmark's 'broadest suppliers of technical solutions' and a distributor with 100 years of experience. Hans Buch's quality management can be assured through their ISO 9001:2015 accreditation.
IMBOX works with well-known brands and big retailers covering 19 countries, with 4,000 stores and locations where customers can have their shoes treated. The company can cater for nearly every shoe material, including four of the five most commonly used materials in shoe manufacture – leather, textiles, synthetics and foam (for the soles). The only materials that can't be treated by IMBOX are patent leather and the rubber used in wellington boots, as these materials cannot absorb the spray.
To protect your favourite pair of shoes from the elements for up to six weeks at a time, take them along to your nearest IMBOX location and enjoy the best protection for your footwear. If you are interested in having an IMBOX unit installed in your store, you can request more information via the 'Business Opportunity' page on IMBOX's website.
If you have an innovative project and are interested in how Accuride slides can help to improve your current or future product, get in touch with us today to discuss your requirements. Please call us now or chat to one of our engineering experts to see how we can help you today!