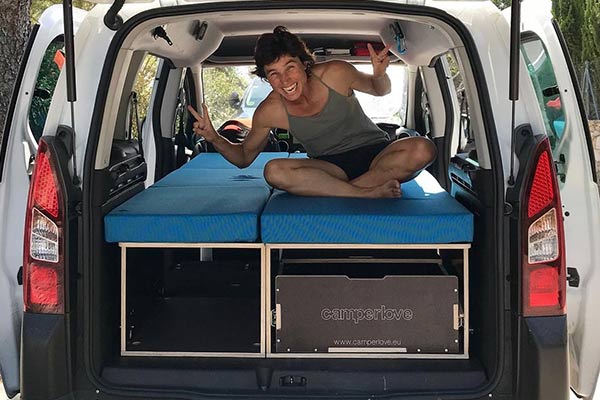 A camper van gives you the freedom to travel anywhere in your own space, and with staycations becoming increasingly popular, 2021 is set to be the year of the camper van.
Packing your life into the back of a camper van can often feel like a squeeze, but with the right storage solution, it is easy. This is why Marc Cerdan, founder of Andorra based company Camperlove, came to us looking for durable and corrosion resistant telescopic slides to help turn his innovative designs into a reality.
Their flat-pack camper kits allow you to 'make the most out of your vehicle's boot' by transforming your van into a camper van in seconds, all whilst keeping the seats and without the need to apply for homologation.
Secure storage for an off-road journey
With a long history of supplying the transport industry, our experts were able to recommend our DZ9308-E4 lock-in slide for Camperlove's large under-bed storage unit. The lock-in/ lock-out feature ensures the drawer remains shut during transit, which can be a particular worry when navigating the sharp corners or bumpy terrain of popular campervan routes.
Camperlove used the 9308 lock-in slide on both sides of the drawer, however these slides are sold separately so when used in the right application there is the cheaper option of using the non-locking 9301 and the 9308 lock-in slide together. Contact us to find out if this would be suitable for your application.
Strong slides for easy bike storage
Electric bikes may feel light when cycling up steep terrain, however on average e-bikes can be 40-50% heavier than traditional bicycles. Our slides have unrivalled strength even when in full extension, with the extra-heavy duty 9308 slide being able to support loads of up to 272kg, ensuring that Camperlove's under-bed bike storage drawer and pullout bike rack are strong enough to easily hold an e-bike.
Our 9308 and 9301 telescopic slides are available in lengths of up to 1500mm and the full extension feature makes it easy to remove the bike from the drawer.
Space saving solutions
Camperlove is working to offer full camper van conversions, with modular systems and ingenious solutions like this kitchen unit. Instead of using a table leg, the strength of the 9308 slide supports the full weight of this pull out drawer table, removing the need for a table leg and saving much needed space.
Do you work in the transport industry, or have a vehicle conversion project, which could benefit from using our motion hardware? Contact us today and our experts will be able to recommend the right slide or even design a bespoke slide to fit your needs. Let us help you turn your vision into a reality!