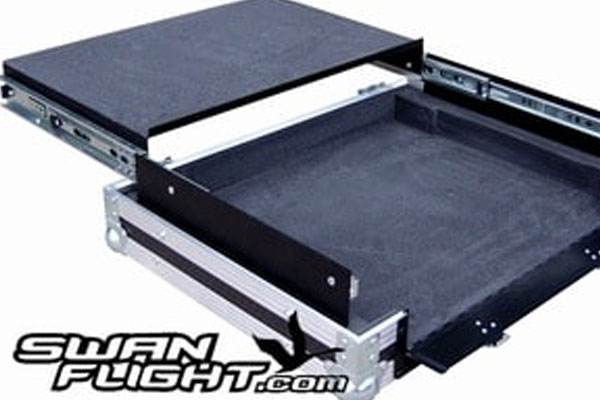 Swan Flight designs and manufactures flight cases to carry items such as music, medical, camera and audio visual equipment, laptops, tools, 19" racks, etc.
As well as off the shelf products, tailor-made flight cases with moulded interiors and accessory compartments are designed to give the best possible protection to the valuable equipment inside.
Manoeuvrability of larger or heavier cases is aided by the addition of pull-out handles or wheels.
In this particular application, the flight cases are intended for specialist music systems such as digital mixers and controllers as used by professional DJs.
Swan Flight wanted these to be more than just a travel case – once in position the equipment can be accessed and used while still in the case and the optional sliding laptop shelf gives the case additional benefits for the end user.
Full extension drawer slide with hold-out
The Accuride DZ3832-DO full extension drawer slide was chosen for its hold-in and hold-out functions. These are not traditional locks, but do need additional force to overcome the hold. This is ideal where the user wants the drawer to be held in place during use, but then can be closed easily and smoothly without having tricky levers to deal with. This particular drawer slide is also a stock item for fast delivery.
The 3832 series has 100% travel for full access to the rear of the drawer and a disconnect feature should the drawer need to be removed totally.
The project was handled by Extratec Progressive Limited, Accuride's distribution partner in Northern Ireland. Extratec is a recognised and respected supplier of industrial fasteners in the UK and Ireland.
Visit the Swan Flight website for more information on the huge range of flight cases available:
www.swanflight.com