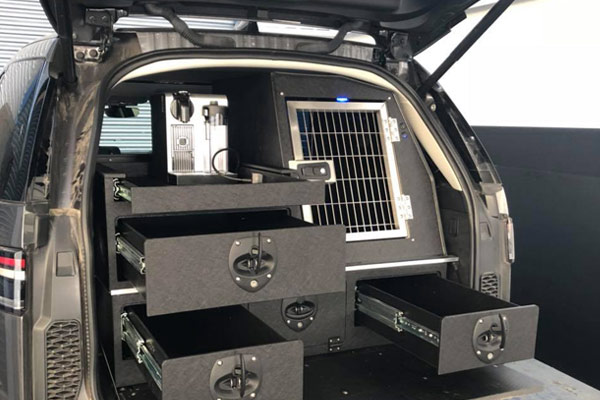 Dog owners around the world will know that it can sometimes be a challenge to safely and efficiently get them from A to B, and when you are also needing to transport important equipment this can become even harder. However, advances in vehicle hardware over recent years have been helping to make this easier than ever, offering tailor-made solutions for a range of animal transportation needs.
As a UK market leader in dog transit solutions, Animal Transit Boxes Ltd have been supplying transportation cages and vehicle drawers for over 25 years. In this time, they have always been committed to providing new and innovative solutions for their clients' requirements, whether they are vets, breeders or simply pet owners.
The latest in their wide range of products was a custom-built multifunctional unit for the Land Rover Discovery 5. This featured a dog transit box, 12V battery, and two storage drawers. Another removable hospitality drawer unit could also be replaced by a second transportation cage, making it highly adaptable.
When producing this unit, Animal Transit Boxes required drawer slides that were safe and secure for use in vehicles, while also providing easy access to potentially delicate and expensive equipment. They, therefore, turned to Albert Jagger, our distributor with over 130 years' experience in supplying vehicle and transport hardware, to provide them with the perfect solution.
In order to fulfill the necessary requirements for this unit, Albert Jagger recommended a longer length of the DZ5321 slide.
This slide has a load rating of up to 160kg and is 19.1mm in thickness, making it heavy-duty but discreet. With 100%+ extension, the DZ5321 offers users full access to the drawers, making it easier to load and unload heavy or fragile gear. Its hold-in feature keeps the slide securely closed until an additional opening force is applied, keeping them during transit secure. Optional bracket accessories give the DZ5321 various mounting options that make it very versatile.
In 2018, there were an estimated 85 million pet dogs in Europe alone, and here at Accuride, we're happy to be providing safe and practical solutions for them, such as this transportation unit. To find out more about how we can help you with your next project (whether or not the intended user is cute and fluffy) get in touch today and speak to one of our specialists.