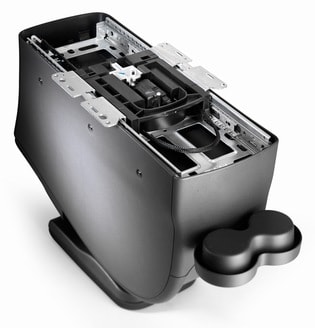 A major European car manufacturer required a sliding central console, that would allow free moving space in the front seats area, while sharing the console and its space between the front and rear passengers.
This also included space for a locking system and an electrical harness.
Within a very stringent time scale, Accuride not only designed the sliding system beneath the console, but also prototyped it. In addition, the dedicated team took the project through all the necessary stages, right up to production of the sliding system base for the central consoles, for which Accuride built a completely new and modular assembly line.
Sliding console locking system
This base gives structural integrity and sliding movement to the console.
It also incorporates an electro-mechanical locking system and the electrical harness for accessories and, for some models, satellite navigation.
The movement comes from the slides. However, the majority of the value and complexity is from bought-in components designed, sourced and then assembled by Accuride.
The manufacturing line itself was also designed and in part built by Accuride to ensure that it meets the same high standards applied to the manufacture of all its products.