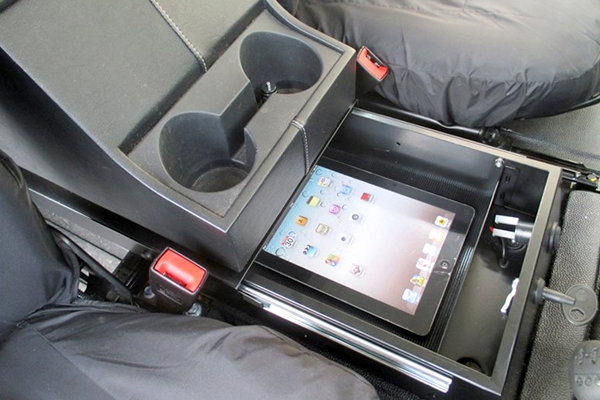 Off-road vehicles are built specifically to tackle a variety of difficult terrains. They're perfect for those who want to explore environments around them that may be hard to access on foot, whether it's treacherous mountainous areas or a water-logged forest trail.
The Land Rover Defender has become a British classic in terms of off-road driving. First sold as the Land Rover 110 and 90 models (on account of the length of their wheelbases in inches) in 1983 & 1984 respectively, the Defender moniker was adopted in 1990 and has lasted ever since, with the name still often making Top Off-Road Vehicle lists today. A new model of the Defender is launching in 2020, which Jaguar Land Rover has described as an 'evolved' vehicle that 'is tough, that is capable, and that is unstoppable'.
Just as the Defender has evolved over the last 35 years, as have our day-to-day lives. This includes what we take with us in our cars, whether we're exploring the open terrain or just going about our daily lives. Phones and tablets are no longer with us just for communication anymore; they can be used for either work purposes or entertainment for us or the kids, as well as helping us to organise, track and manage so many areas of our lives, thanks to the influx of apps in the last few years.
So how do we keep our valuables safe on the road, especially when we're potentially climbing over rocky terrain or bouncing across an off-road track?
MUD-UK has developed a specialised Cubby-Box Locker to keep your valuables safe and sound, creating an extra 11 litres of discreet, secure storage. They have developed two variants of the Cubby-Box Locker, including a hinging box that rests against the bulkhead when open, and a sliding solution which pushes the box back into the footwell of the rear seats. As off-road outfitters, MUD-UK has designed and manufactured an exclusive range of innovative and exclusive products since 2003, primarily for the Land Rover Defender.For the sliding box, MUD-UK went to Metrol Springs in Northampton. Metrol Springs was established in 1984 with an aim to introduce gas springs to the UK market. Since these humble beginnings, however, they have grown and diversified into a global business with two strategic divisions; Metrol Tooling and Metrol Motion Control.
It was through Metrol Motion Control that MUD-UK came into contact with Accuride's slides, leading them to the DZ0204 electronic enclosure part-extension slide. The front-disconnect allows for easy removal and reinstallation for maintenance, and the lock-out feature prevents drawer roll-out or bounce back during transit.
With a part-extension slide, the Cubby-Box Locker can be installed between the driver and front passenger seat without interfering with the gear stick or other operational equipment within the car. Whether you decide to store first-aid supplies, your tablet or phone or other valuable possessions, the 0204 has a load rating of 65kg.
If you are curious about how Accuride's motion guides can help to improve or support your future projects, contact us today to speak to one of our specialists.