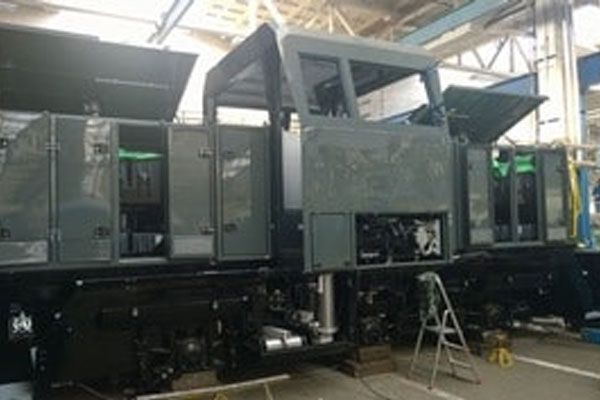 Accuride's distribution partner in the Czech Republic, Arcus Engineering, has been working closely with Kolejové pohony, a.s. to provide a viable solution for access to a heavy air compressor built into the side of a train.
These rail vehicles have been designed for light and moderate service at railway sidings, industrial enterprises and logistics terminals.
The air compressor operates, amongst other things, the braking system and is located in a closed container.
To make access for maintenance and repair the customer wanted to be able to pull the unit out as far as possible. This meant that the slides would have to carry heavy weights at full extension and be corrosion resistant.
Slide tested to carry heavy loads
Arcus Engineering suggested the Accuride DA4160 – a heavy duty aluminium slide with stainless steel ball bearings, 100% extension and stocked in a range of lengths up to 1m.
In this case the 650mm length was chosen to give full access to the air compressor. The required load was 260-270 kg and this length of slide has been tested to 10,000 cycles with a load of 295 kg.
For such a critical application the system needed to be tested prior to any final purchase decisions. Having this slide available direct from stock made this process quick and easy.
Stock aluminium slide for fast delivery
Arcus was able to pull the slides direct from Accuride's warehouse in the UK, creating a short and practical supply chain for the end customer.
Accuride supplies a range of aluminium slides from stock to carry loads from 50 kg right up to 600 kg and can be purchased through our Europe-wide distribution partners.
Bespoke aluminium slides have also been designed for low weight applications, especially in the aerospace industries.
View Accuride's complete range of stock aluminium slides here.
For bespoke, high volume projects please contact your Accuride sales manager or email us at support@accuride.com