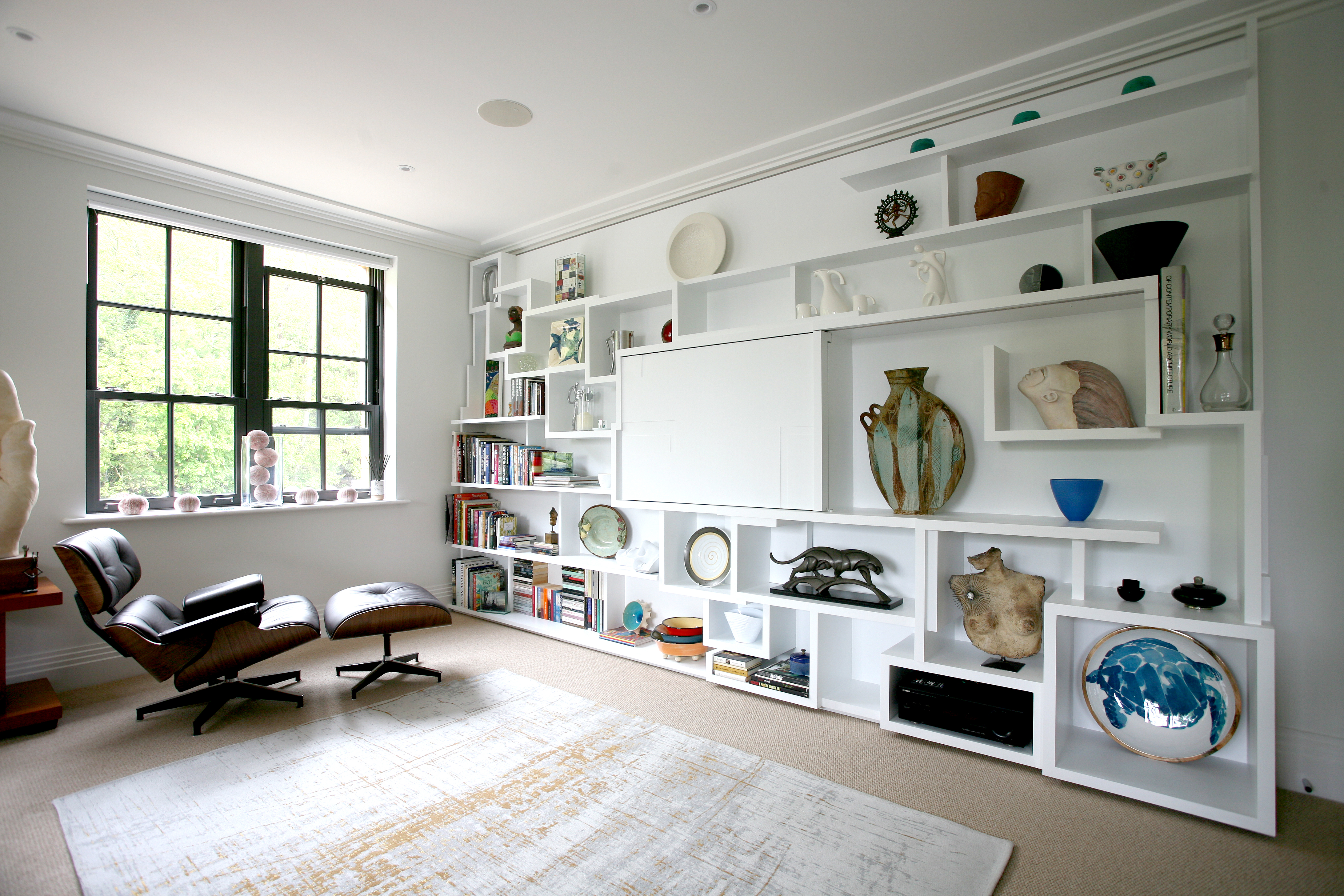 Hidden TVs, concealed drinks cabinets and covered washing machines are becoming common ways to make the most out of the space you live in.
For London's growing population of over 8.8 million people, many of whom are living in small apartments, using pocket doors to conceal parts of their living space can help to make their home feel a lot bigger.
Therefore, when Exploit Space came to us asking for hidden TV ideas for a London-based client who wanted a bespoke bookcase for their apartment, we were quick to recommend a pocket door solution.
A slide and swing door solution
Pocket doors, occasionally referred to as 'slide and swing door hardware' as the doors characteristically slide into the cabinet and are hidden from view, are a good alternative to regular cabinet doors which protrude out and take up much more space.
Exploit Space create bespoke furniture which merges an artistic design with a space saving practicality, and so the space saving functionality of pocket doors was particularly important.
A lot of thought went into the design of the bookcase, with a heavy artistic influence from Austrian artist Gustav Klimt, so Exploit Space were particularly grateful for the equally detailed support they received from our Accuride engineers considering the functionality of the covered TV unit.
"I was really impressed by the level of engagement I received from the engineering team at Accuride. They had clearly spent time with the drawings and models I'd sent over in advance of our video call and were able to suggest a number of viable solutions." – Jon Wild, Exploit Space
Exploit Space needed a pocket door slide strong enough to support tall doors, as well as another mechanism to slide the TV forwards once the pocket doors were open.
For the pocket doors, we recommended our DB1432 pocket door slide due to its ability to support taller doors with a height of up to 2300mm and maximum door weight of 34kg. This slide is particularly well suited to taller doors as the synchronised cable system eliminates the risk of racking, a common problem for taller doors.
To slide the TV forwards we recommended our DA0115RC linear motion track and DZ0115-BRKT door mounting bracket, with a soft-close mechanism included. With a load rating of up to 130kg, the 0115 linear motion track can comfortably support the weight of the large TV.
This was the first time our customers have wanted to use the 1432 pocket door slide and 0115 linear motion track together in the same application, so we were excited to see the finished result.
As the back of the bookcase was inaccessible during installation, the project was broken down into individual parts for sub-assembly. Therefore, it was important that Exploit Space were able to assemble the hidden TV cabinet beforehand so that they could then easily lift it into place.
Accuride stocks pocket door slides suitable for a range of commercial and domestic solutions, from our 1432 slide for tall doors to our light duty 1312 pocket door slide.
Do you need help finding a pocket door solution for your application? Contact us and our team will be happy to support you through the process.