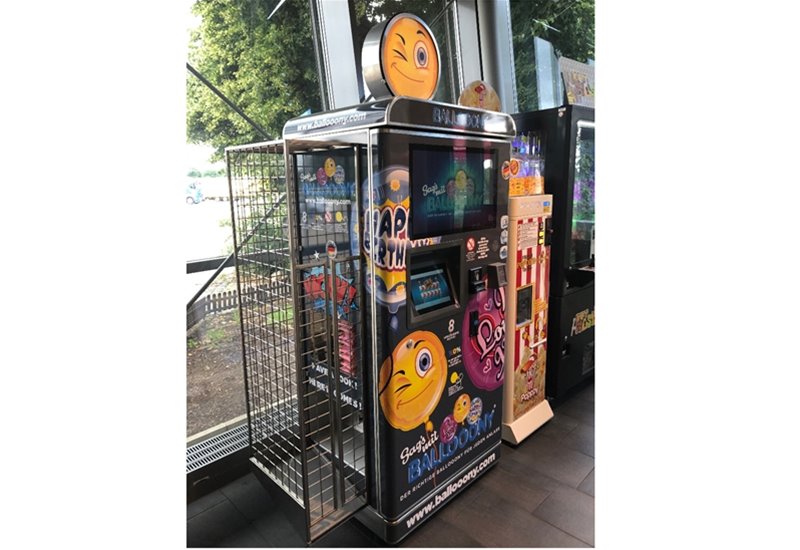 Whether you're wishing someone a happy birthday, saying thank you, or hoping they get well soon, foil balloons have been used to convey well-wishes for almost 50 years, being sturdier and easier to shape than rubber. Often, when buying foil balloons, you need to order them ahead of time or fill them with helium yourself. But what do you do if you want one instantly?
Ballooony, an OEM based in south-east Germany, have recently designed and produced the world's first fully automatic foil balloon vending machine. The easy to use machine allows customers to choose from eight different designs using a 10" touch-screen display and is ideal for use in places such as amusement parks, shopping centres and zoos. This vending machine has a total capacity of over 240 balloons, and can easily produce 38 per hour.
When designing this innovative machine, Ballooony needed a high-quality slide to move the balloons into the inflation station within the machine once an order had been placed. When they couldn't find the perfect slide for this ground-breaking application on the market, they turned to Accuride looking for a custom-made slide that could meet all of their requirements.
Our team were up to the challenge of designing and manufacturing the requested slide for Ballooony, working quickly and efficiently to deliver the slide within the desired time frame. The 27mm profile slide easily fit into the narrow side space within the application, without compromising on performance or durability. A two-way travel configurator was used, ensuring it could smoothly move in and out of the inflation station over and over again.
Having previously produced a number of bespoke and off-the-shelf two-way travel slides, including our DZ3630 slide and DZ2002 double extension slide, we were able to provide the perfect solution for the vending machine that would be long-lasting and reliable.
Watch the 2 way-travel video:
At Accuride, we strive to continually produce innovative slides and movement systems for pioneering applications such as this, and we are always happy to work with companies such as Ballooony who are passionate about achieving the very highest standard in what they do. Since the 1970s, we've been designing and manufacturing telescopic slides in Europe for hundreds of different applications, working with a range of OEMs and businesses across the globe.
To find out more about our custom design capabilities, or to discuss how we can help you with your next project, get in touch today to speak to a member of our friendly sales team.