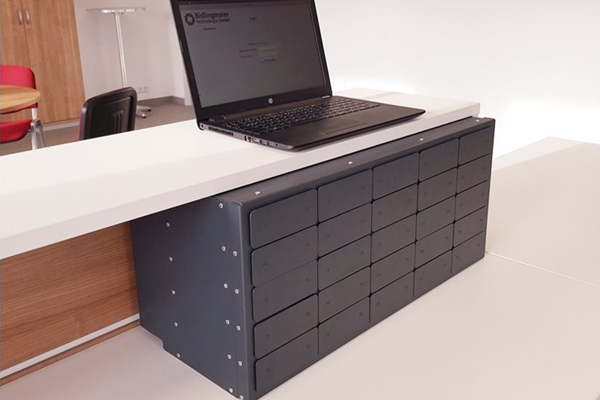 As the leaders in manufacturing and designing of ball bearing telescopic slides around the world, Accuride is often approached to solve difficult problems. Our engineers love a challenge and the thought of getting our teeth stuck into a project that allows us to work with our latest technology, and express our creativity in order to find the perfect solution.
A common problem for car dealers around the world is how to keep the keys for vehicles safe. It can be difficult to ensure that the system is efficiently storing and locating the keys so that staff always have the right key.
One of our customers, Bidlingmaier Technologie GmbH, was asked by a leading automotive manufacturer to produce a system to solve this problem. Currently most car dealers must manually manage the safekeeping of keys. Due to human error, this meant that keys were often lost and there was no record, which meant that they could not be tracked properly. Replacing lost car keys is an unnecessary and expensive cost. 
The requirement was for an electronic storage system that could digitally control access and keep a record of the movement and location of all keys. This makes it easy for each user to store and get access to the right key at the right time.
Bidlingmaier built this solution Memlock around the Accuride E-Lock system with drawer slides, which would allow each employee access to the specific key required. This eliminates the chance of the wrong key being picked. The Memlock system also helps to prevent the future loss of keys, as each key can be tracked with data available specific to the keys movements. 
Accuride slides are designed by our engineers to be as compact as possible, whilst maintaining the strength and endurance required to ensure maximum performance. The Accuride patented compact system enabled Bidlingmaier to flat mount the slides into their units. This gives an advantage for the slides and locks to be hidden from view, and allows more drawers to be fitted into each cabinet.
The unique Memlock allows the user to select and open only the drawer that they need. It saves time on checking different drawers for the right key.
The most important factor for Bidlingmaier was to make the whole system as simple and user-friendly as possible. The end product works perfectly, saves time and automates the key management process. There are no boundaries as to where secure systems like this could be used in the future.
To discuss how Accuride could improve your next project or to enquire about any of our products, please contact us today via the live-chat feature on our website or calling our customer services department. We love to hear from you!