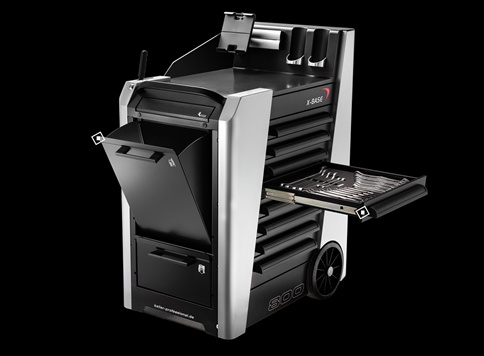 Time is of the essence when it comes to completing a Formula 1 Grand Prix. As soon as one race finishes, a team of driving instructors, engineers and buyers are hard at work finding ways to improve their team's time for the next event.
The drivers are busy honing their skills on the track and through virtual reality machines, whilst aerodynamicists work behind the scenes redesigning the smallest details of the car and testing it in the wind tunnel – all in the hopes of shaving a few seconds off the clock.
Every detail of the race is taken into consideration, including the tools and equipment used in the pit stop.
Therefore, it is no surprise that the team have the same attention to detail when it comes to sourcing the tools and equipment used during the race.
Industrial storage company Keller Professional had this in mind when they designed their X-Base 800 toolbox. The family run business knew that if their toolbox was to be used in high-pressure and time-sensitive environments like Formula 1 pit stops and industrial repair shops, their product needed to be both easy to use and multifunctional.
It was important to make the toolbox as dynamic and efficient as possible, and - with eight drawers, a removable bin, sockets and a detachable electronic tablet – the X-Base is well equipped.
Keller Professional came to us looking for a durable solution for the eight storage compartments within the toolbox. For this we considered recommending our off-the-shelf DZ5417-EC telescopic slide, which comes with a soft-close feature and can support loads of up to 55kg, with an operating pull force of 25N (give or take 5N).
Having been tested to 80,000 cycles, this drawer slide would have been more than capable of withstand the constant usage and the high demands of a repair shop.
However, Keller Professional were determined to use only the most suitable product for their toolbox, to help give their product and those who used it a competitive edge.
Therefore, we designed a custom solution based on our 5417 slide, with the slide features tailored to the OEM customer's exact requirements.
The custom-made slide still has a 100% extension feature for easy access to the tools at the back of each drawer, however the company specifically wanted a slide with 17mm slide thickness and load rating of up to 40kg, which is strong enough to securely support the small tools which would fit into each of the eight drawers.
An especially important requirement from the customer was that the slide must have a self-closing function with a soft damper. For them it was particularly important that the self-closing mechanism was quick and strong enough to activate their interlock system, which is something they found that Accuride could offer them in a bespoke solution.
Their product introduces new ways to organise parts and tools, bringing a new level of efficiency to both F1 pit stop teams and accident repair companies. Despite the product's many features, the toolbox is compact and easily moveable, allowing for members of the team to quickly move it to the area of the car they are working on.
The organisation and efficiency of the team can have a huge impact on the time of the driver, and so it is important that they have the right tools to hand exactly when they need them.
This is not the first time our slides have been used to add efficiency to toolboxes and workstations. From the storage compartments in these cargo bikes, which use our 5321 slide, to the use of our 9308-E4 extra-heavy-duty telescopic slide in these workstation drawers in sheet metal fabrication companies and car diagnostic machines.
It is especially not the first time our motion hardware has been used in Formula 1 pit stops, with Accuride distributor Jet Press recommending our DZ9308-E4 extra heavy-duty locking slide and the DZ7400 self-close slides in this Formula 1 toolbox a few years ago.
We have a strong history of providing both off-the-shelf and bespoke solutions for the industrial storage market sector. If you need a product to make you stand out within your industry, contact us today and we will be happy to recommend one of our off-the-shelf products or even work with you to design a custom-made solution.