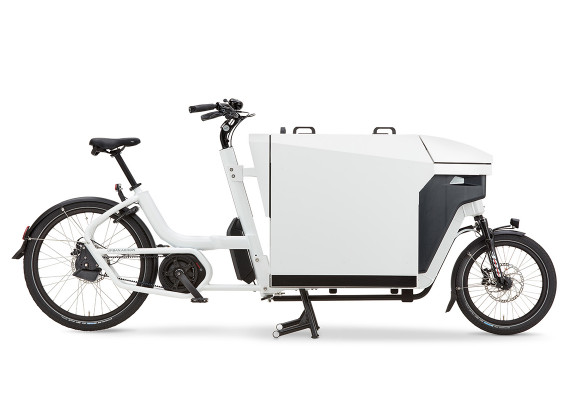 Cargo bikes are cropping up in different shapes and sizes all around Europe, whether it's to transport tools around factories, to deliver your take-away or even for the school run in the Netherlands.
This is not a new phenomenon, with cargo bikes having been used to transport goods years before the electric cargo bike was developed. However, an increased demand to lower carbon emissions and congestion in cities has meant that the city cargo bike – and its storage compartment - is now undergoing a revival.
Functional storage for specialised cargo bikes
Dutch company Urban Arrow have designed a cargo bike which is not only futuristic in appearance - an appearance they have compared to the car from the popular film 'Back to the Future' - but which also has a forward-thinking functionality.
To help give these specialised cargo bikes an extra edge, Accuride distributor Onkenhout recommended they use our 5321 slide for the bike's storage compartment. With over 50 years of experience specialising in mechanical fastening techniques and 'access hardware', with a mission to enhance their customers' designs, Onkenhout had the expertise to recommend the right solution for Urban Arrow.
Our 5321 heavy-duty slide comes in a corrosion-resistant stainless steel and has a load rating of up to 160kg, making it strong enough to support the intended cargo.
Choosing to use a slide instead of a hinge lid was an important part of the cargo bike's design as it maximised the space within the compartment. This resulted in a much more robust and compact solution, removing the need for other components like hinges or gas springs, which would have taken up valuable storage space.
Designed with the user in mind, the cargo box was installed so that it remains horizontal, giving it a dual functionality as both a convenient storage compartment and also a flat working space for when the bike is not in use.
Access was also important and so the slide's full extension feature, as well as the placement of the slide on either side of the bike, was important as it allows the user full access to the compartment even when one side of the bike is blocked off.
An Accuride storage solution for 'last mile deliveries'
Storage is a large part of last mile delivery services and our slides can be found in a range of storage solutions, from our full electric slide which could be used in the storage drawers of delivery robots to our heavier duty slides like our 5321 slide used in Dutch cargo bikes like those from Urban Arrow.
Methods of delivery are changing at pace, from the use of commercial cargo bikes to delivery drones – however these methods of transportation are nothing if the cargo is not properly stored. Contact our team today to find out how our range of telescopic and linear motion slides could help bring your delivery services to the next level.