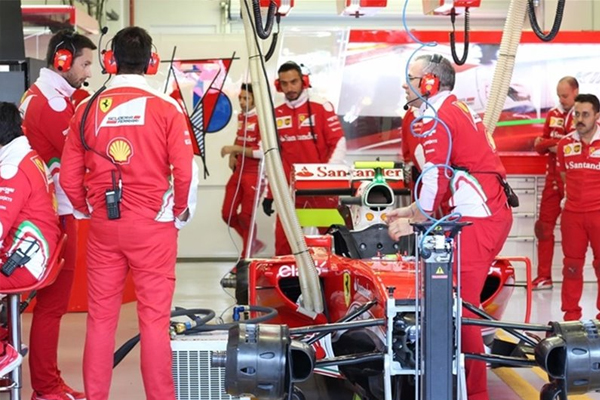 It's not everyone's favourite way to spend a morning or an afternoon, but taking your car in to get it's tyres changed is an unavoidable task. Whether you take some time off of work to go in, drop it off in the morning and get someone else to pick you up, or attempt the gauntlet of booking in a service on a weekend, it has to be done. So how long does it take your garage to change your tyres? An hour, maybe? Perhaps two if several cars are already waiting ahead of yours. Longer if you're unlucky.
But imagine if all four of your tyres could be changed in under two seconds.
This is the experience of a Formula 1 racing driver. A pit stop can make or break a race for a team, and so it is crucial that pit stop crews can work as efficiently as possible. In 2016, Felipe Massa's pit crew changed all four tyres in 1.92 seconds – and set a new world record that has yet to be beaten. Even the cases that hold all of the tools and components that the pit crew require, need to be as efficient as possible. In order to carry all of the required tools and components, the case must also be lightweight, and must be able to withstand a rapid semi-thermal cycle as it goes from the cold hold of an aircraft out onto the runway in Australia or the Middle East.
UK distributors JET PRESS were approached by a designer whose newest project involved creating a transport system that can withstand the demands of air and road travel. With over 40 years of experience as distributors and component manufacturers, JET PRESS has over 20,000 standard products in their stock in Nottinghamshire, as well as working partnerships with leading product manufacturers, to provide their clients with the best solution.
Due to the competitive nature of the F1 industry, we are restricted from showing any actual application images.
The JET PRESS team recommended two of our slides: the 9308-E4 extra heavy-duty locking slide and the 7400 self-close slide. The 9308 has a substantial load rating of 227kg and 100% extension. The lock-out function keeps the slide stable when extended, and the lock-in feature prevents the drawer from opening until its lever is activated; extra security for the 100,000 miles each team can end up traveling between races and test sessions around the world.
The 7400 self-close slide has a more modest 45kg load rating, but the bayonet mounting fittings make them quick and easy to install, remove or reconfigure the drawer layout. With over 100% extension, drawers with these slides prevent anything from getting lost or stuck at the back of the drawer and their slim profile maximises space.
Both Accuride slides recommended by JET PRESS are ball bearing slides, ensuring a consistently smooth movement. The passivated zinc plating also protects them from corrosion, promising 100% efficiency for the lifetime of the case.
You don't have to be involved in Formula 1 to experience the benefit of Accuride slides. Our stock of telescopic and linear motion slides have been used across a wide range of industries and applications. We can also help you to develop a bespoke solution specific to your requirements. Contact us today to discuss your project with our expert team.