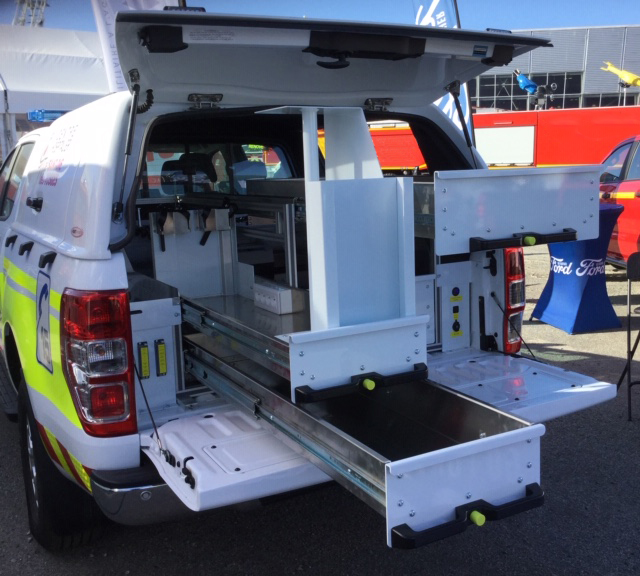 When you think of emergency vehicles, you will likely think of the standard fire engines, ambulances and police cars that you often see speeding past you on the road or in films and TV shows.
With more than 30 million calls a year being made to emergency services in the UK alone, there is a need for an increased number of emergency vehicles and thanks to innovation and modern technology, these vehicles can now be created using the body of a standard van, SUV or pickup.
Located at two sites in Lesquin and Tatinghem, French company Spac have been adapting vehicles to meet the specific needs of a variety of trades and industries since 1968. From Nissan Navaras to Land Rover Defenders, they have the capability to produce emergency vehicles from a range of vehicle bodies, incorporating drawers and storage solutions for emergency equipment.
When they ran into technical issues with the slides originally used within these vehicles, Spac was looking for a new and reliable solution. With the help of Decmo, a French distributor of equipment for both recreational and industrial vehicles, we encouraged them to switch to our DZ9301-U-E telescopic slide with our DBHAND locking drawer handle.
Our heavy-duty 9301 slide was ideal for this application thanks to its 272kg load rating, making it suitable for the heavy emergency equipment within the drawers without negatively impacting performance. This 'gentle giant' of telescopic slides uses shock-absorbing ball retainers to provide smooth and reliable movement with reduced noise impact, while 100% extension of up to 1.5 metres ensures that the equipment is easily accessible in emergencies.
The DBHAND offered Spac the ability to ensure their vehicle drawers are safe and secure at all times. With this locking handle, the drawer can be locked closed when the vehicle is in motion and then easily opened via a centrally located push-button when needed. In addition to this lock-in function, when rear-mounted the DBHAND also has a lock-out capability, keeping drawers locked open when in use.
Over the years, we've provided both bespoke and off-the-shelf solutions for a number of emergency services vehicles. We understand the need for durable and reliable slides that provide safe and easy access within these applications, using decades of industry knowledge and expertise to recommend the most suitable products.
To discover more about our capabilities and extensive selection of telescopic slides, or to discuss your project requirements, get in touch today to speak to a member of the Accuride team.