The Importance of Server Racks and Enclosures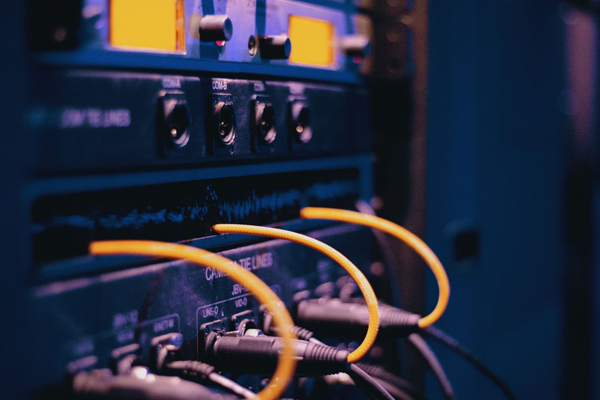 By
Heidi Hamraoui
,
Internal Sales
Published by :
Accuride International
Even before digitalisation started to touch most aspects of our lives, servers and network equipment have been an integral part of the infrastructure of businesses. Servers store data and carry shared information to users, providing access for all users in an organisation to resources as required. Their importance is evident and so it is vital that any business appreciates them as such.

A vital part of this appreciation is ensuring the servers and other network equipment is well-maintained, cared for and secured properly, and one of the best ways to meet all three of these areas is to consider investing in network rack equipment.
Benefits of Network Racks
When servers and network equipment is stacked on the floor or on tables, ventilation to the equipment can be blocked. This can result in the equipment increasing in temperature, which in turn can impact the performance of the equipment and may even result in equipment failure from overheating. Racks maintain an even spacing between the equipment, encouraging ventilation and reducing the need for external cooling.
Racks also make the maintenance of network equipment easier, as everything is in one place and can be organised in a way that makes the equipment as accessible as possible. This can include the organisation of power cords and cables, making it easier to trace these wires and locate potential problems. Being able to arrange cords and cables also makes the server room safer for engineers and technicians, reducing the risk of tripping hazards.
Types of Network Racks
When choosing a network rack, it is important to consider the needs of the company alongside the space available for the installation.
The most basic configuration of rack is the two-post rack, which are typically anchored to the floor and can be additionally attached to the wall if more support is needed. Two-post racks are typically used when installing patch panels as well as networking equipment like switches, routers and firewalls. It is also possible to use additional special rails in order to install some rack-mounted servers into two-post racks.
Similar to two-post racks, four-post racks have another rack attached behind them, offering increased flexibility and allowing for more options that will bear more weight, such as keyboard trays, shelves and monitor stands.
If mobility is a requirement or consideration, some rack cabinets have casters installed on them in order to make the entire cabinet easy to move. Servers and network equipment would be installed in these racks just as they would be in a four-post rack. For more security, cabinet enclosures have the same configurations as a four-post rack but can be locked from the front, behind and sometimes the sides. This makes the equipment accessible at any given time but also prevents theft and unauthorised physical access when locked.
Accuride's Server Rack Slides
At Accuride, we know that server manufacturers and business owners want to put as much of the rack's space as possible to good use, particularly in 1U and 2U servers. We understand that the industry standard for server racks is for them to be 19 inches wide, so we have developed two specific slides to provide optimal levels of performance at this same distance. We have also ensured that they have super-low profiles and narrow cross-sections so that as much of the enclosure's space is dedicated to servers and other network equipment.
The DZ2807 and DZ2907 are two telescopic slides developed by Accuride specifically for use in electronic/server enclosures and include features that will specifically make server maintenance easier. The DZ2807, which is ideal for 1U and 2U servers, comes with attached brackets and has load rating of 45kg. The DZ2907 has optional mounting brackets and a load rating of 55kg.
With 100+% extension, equipment can be fully withdrawn from the enclosure for full access to the module for engineers and technicians. The lock-out feature allows the equipment to be held and supported in this position which is not just beneficial for the equipment, but also ensures the safety of the engineers during maintenance procedures.
Part of the Accuride's range of enclosure slides are also the DZ0301, DZ0305, DZ0201 and DZ0204. Like the DZ2907 and DZ2807, the DZ0301 and DZ0305 have 100+% extension to provide full and easy access to the server racks, although these two slides also have a higher load rating of 70kg to accommodate larger servers. In addition to the lock-out feature, both the DZ0204 and DZ0305 have a front disconnect, allowing the server to be detached completely from the rack for maintenance work to be carried out.
While server racks help to stop the servers from overheating, the power generated when they are in use can still produce large amounts of heat. Because of this, all of our electronic enclosure slides are designed for use in extremes of temperature and are able to withstand temperatures up to 70-110°C.
If you work within the electronic unit and/or server industry and are interested in how Accuride enclosure slides can improve your next project or are interested in improving your business's server enclosures, contact us today via our live chat feature, email or telephone.